According to LinkedIn, over 94% of the employees work for a company which invests in their professional development. So, corporate training might not be synonymous with fun. However, the issue isn't that employees don't want training. It's just that they aren't getting the appropriate job training.
So, how can you offer corporate training program that they find helpful & valuable?
Today, we will explore different methods of corporate training & how to design a program that aligns with your employee's needs. 
What Is Corporate Training?
Corporate training, also known as workplace training, is a set of educational activities offered to employees free of cost. It covers various topics as well as areas of improvement, from soft skills to role-specific competencies. Corporate training benefits employees as well as businesses as it builds intellectual capital & upskill or reskill employees.
The main aim of a corporate training program is to improve your employees' professional & personal development. It can take place in a one-on-one group setting, which is often led by an instructor.
Some of the examples of training courses include:
Compliance training
Technical skills training
Onboarding
Orientation
Soft skills training
People often mistake corporate training programs with corporate learning. However, there are some points of difference between the two.
A company which values & invests in learning opportunities has a corporate learning culture. Corporate learning is generally employee-driven. On the other hand, corporate training is formal training provided by the company.
Corporate training aims to provide employees with skills, expertise, & knowledge. Thus, it is a part of corporate learning.
In order to deliver a successful training program, employers must align the training program goals with business objectives. At the same time, the program must be engaging & meet the needs of the employees.
One of the most engaging corporate training methods is online learning, also known as e-learning. Incorporating e-learning into corporate training is important as it helps one remain competitive & meet the employees' needs. 
Why Do We Need Corporate Training?
Investing in career growth & skill development of employees is vital. Managers, as well as individual contributors, can benefit from corporate training. It helps keep teams aligned on the company goals & positioning their personal growth in the organization.
Moreover, employees are also given resources & space to flourish. With an effective training program, every individual creates a path with achievable goals that they can work towards within the company. Apart from the upskilling, this clarity & vision can help increase motivation, retention, creativity, & collaboration.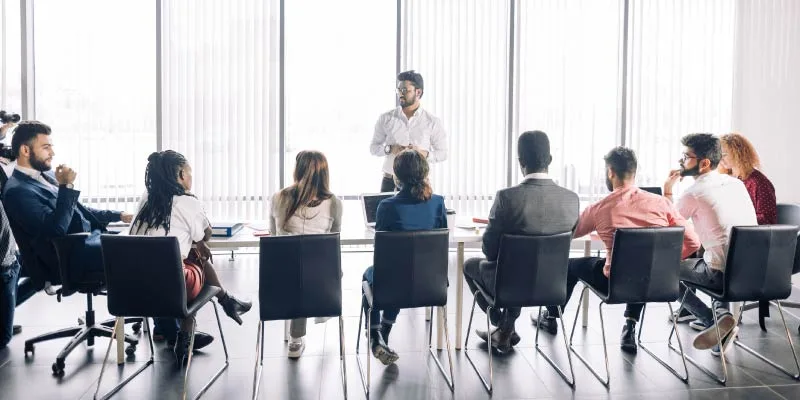 Corporate Training Failures: Here's Why It Happens! 
Corporate training programs are specifically designed for the benefit of employees. But many face challenges to see value in them.
And why not? Outdated & out-of-touch programs have given a bad reputation to corporate training programs.
However, why do such programs fail? Here are the possible reasons!
1. Misalignment With The Needs Of The Employees
One of the significant concerns employees have is that they are taught irrelevant skills. Training programs that do not align with the employee's actual needs will make them feel disengaged. They will not see any value in these programs. To overcome this, you can focus on training that teaches relevant skills to employees.
2. Information Overload
Trying to stuff too much data in every training session can leave your employees overwhelmed & burned out.
Here's a solution: You can use microlearning to make your training more effective & easily digestible.
Microlearning is beneficial as it delivers information/ data in short pieces of content. It can be delivered in numerous forms, like videos, job aids, infographics, etc.
3. Outdated Training Methods
If you are using dull instruction manuals & old corporate training videos, it's time to eliminate them. No wonder employees are scared of corporate training when it involves outdated methods.
The solution to this is to revamp the corporate training programs from boring to engaging & fun via gamification.
This popular method offers game-like elements to traditional learning material. This includes badges, levels, points, etc., that employees will work through.
4. Poor Timing
Employees do not like corporate training because it's often timed poorly. They'll feel obligated to take part in these programs that they end up regretting.
To overcome poor timing, companies can organize training which aligns with each employee's schedule. Online training can easily be delivered at convenient times that do not disrupt teams' workflow.  
What Makes A Successful Corporate Training Program
After looking at all the potential pitfalls, developing successful corporate training might seem to be a bit daunting.
However, there are specific considerations to keep in mind for the success of the corporate training program.
1. Content Relevance
It is vital to understand the areas wherein your teams wish to develop themselves. Recognizing the teams & individuals that can use certain training programs & tailoring them for each group will help you get started on the right foot.
2. Goal Alignment
It can be really hard to stay engaged in the 'WHAT' without the 'WHY'. In order to keep employees motivated, you have to draw lines between team & organizational goals. And note how training helps you drive towards these goals. When your goals are aligned, the training programs are bound to be successful.
3. Learning Styles
There are numerous learning styles that employees can incorporate in their professional lives.
However, when designing a corporate training program, it is vital to be sure to try out these different learning styles. For instance, you can offer visual, kinaesthetic, written, & auditory content throughout the training session to keep every member engaged & focused.
4. Time Commitments
Be mindful of employees' bandwidth & schedules. This will be significantly beneficial in terms of engagement & attendance. More employees will be able to take up training programs & be focused specifically on the program while they are in it.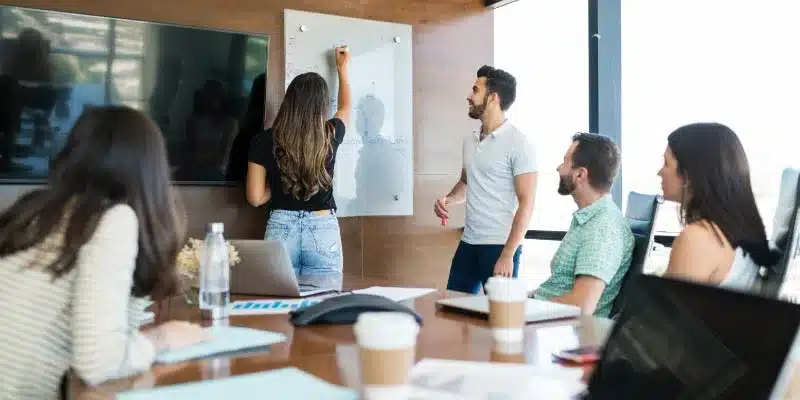 Goals Of The Corporate Training Program 
There are numerous reasons why corporate training programs exist in the workplace. Here are a few goals of training programs.
1. Equip Employees With Apt Skills
Programs like onboarding & essential training offer employees the skills they require to take on a new role. This training is usually provided to new employees who get promoted to a more challenging/ tough position.
Teaching foundational skills empowers employees to perform at their highest potential. So, think about it – do you have the mastery over the skills you need for your current jobs?
2. Reduce Skills Gaps & Offer Ongoing Training
The pandemic has accelerated the need for upskilling as well as reskilling your employees.
Moreover, in order to fill the skills gap, industries need to invest in training programs to equip employees with the latest skills.
This includes teaching vital soft skills like time management, creative thinking, resilience, etc. Moreover, it also implies learning new digital skills & keeping up to date with emerging technologies.
3. Invest & Retain Talent
In case you are not actively investing in your employees, you are at risk of losing them.
Many studies show that most of the employees looking for a new job say that their employers aren't maximizing their skills & abilities.
Moreover, some training programs prepare employees for leadership roles within the organization. Thus, opportunities for growth & development increase employee retention & supercharge the employee experience.
4. Create A Cohesive Company Culture
Initiatives that put the needs & desires of the employees at the forefront create a culture of belonging. These include inclusion & diversity seminars/ debates or mental health & well-being training.
Creating a culture of belonging results in better performance. It also results in employees who feel valued & empowered. 
Corporate Training & Career Development
Career development is an ongoing process of learning new skills & knowledge which empower you to reach your entire potential.
These abilities can help you navigate vital moments in your career.
Effective corporate training programs are a catalyst for an employee's career development.
Growth-oriented training gives your teams the apt skills & mindsets needed to succeed. In addition, they also prepare individuals to take on greater responsibilities & advance their careers.
For instance, Amazon invested over $700 million in employee training programs.
Before hiring, they offer a subsidized, month-long training & leadership program. Moreover, besides initial training, they have countless upskilling programs. This includes free career training in robotics.
Leading organizations like Amazon understand the significance of investing in employee's career development.   
Types Of Corporate Training
Corporate training can be delivered in numerous ways. Below are three types of the most popular methods of training.
1. eLearning/ Online Training
eLearning is becoming the go-to training platform for many businesses.
Last year, 90% of companies used elearning in their training. From a business perspective, eLearning reduces training costs, thus giving companies a competitive advantage.
It is globally 24/7. It works around your team's schedules instead of disrupting the workflow.
Thus, eLearning enables employees to learn at their own pace.
2. Traditional Instructor-Led Learning
Do you remember gathering with your co-workers in a banquet hall or conference room to undergo training?
The pandemic has pushed the traditional classroom to the curb.
But the tried-&-tested traditional training method isn't going away anytime soon. However, here are reasons why businesses & employees still find this method effective:
It's easy to deliver & create.
It has a human aspect – learning is engaging & collaborative.
It is familiar to all employees, irrespective of age.
3. Blended Learning
Blended learning is a hybrid of the above two pathways.
Supplementing in-person training along with online training combines the best of both worlds. The one-on-one part engages employees to participate & collaborate with other team members. Moreover, at the same time, the online element is quite accessible & convenient.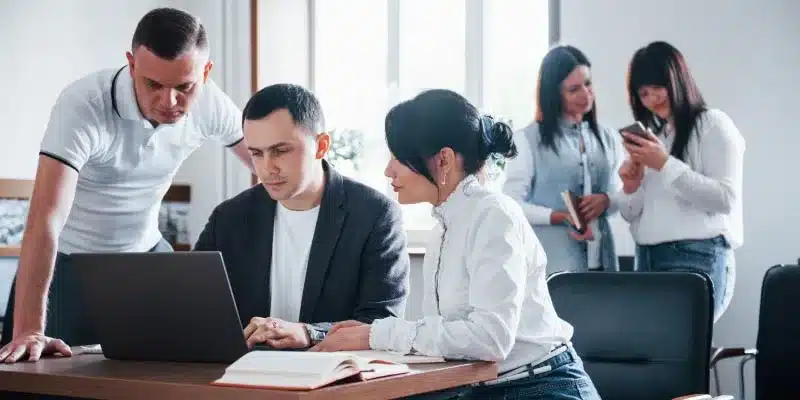 How To Select The Correct Type Of Corporate Training 
Corporate training is a valuable investment in your team & the company's future.
In order to select the correct type of corporate training for your organization, here are a few tips to keep in mind.
1. Take Up The Skill Gap Analysis
In order to select the correct type of training, you need to begin by performing a skills gap analysis. Here's how you can do it:
Define what skills are valuable for your organization
Consider what skills your company might need in the next 5-10 years
Evaluate the hard & soft skills of the team
By undertaking these steps, you will offer relevant training that your employees will value.
2. Set Clear Objectives
In order to ensure that your training program is effective, you must set clear objectives. Think about what you want your employees to learn. Is it leadership skills? Is it team-building skills? Company policies?
Moreover, at the same time, do not forget to align your targets with your business goals, company goals, mission, etc.
3. Accommodate Employees
You can't select the best corporate training without considering the needs of your employees. Have you ever thought about what training programs they would prefer?
As we discussed earlier, younger employees prefer independent training.
Online learning might be the only way to go if your team is remote. Moreover, you might even discover that you need one type of training, as employees have numerous learning styles.
4. Consider Your Constraints
You have to carefully consider the budget when selecting the type of training you wish to offer.
For instance, when you have a small budget, hiring an external facilitator who offers corporate training might not seem to be realistic. In that situation, an in-house instructor, like a senior employee/ manager, might be a better choice.
5. Get Feedback
Follow up with your team members & ask for feedback. Measuring your results will help you keep on the right track. Otherwise, the money spent on corporate training will no longer be an investment. It will be an expense! 
Corporate Training Services
Corporate training services are a vital part of businesses striving hard to succeed in today's competitive landscape. These services offer tailored learning experiences which empower employees to enhance their skills, expertise, productivity, & knowledge. Corporate training services address diverse needs, whether technical proficiency, leadership development, or soft skills like communication, collaboration, teamwork, etc.
By investing in corporate training, companies create a culture of continuous improvement, innovation, as well as adaptability. Numerous customized training programs align with organizational goals & latest market trends, ensuring that employees stay ahead in their respective fields.
In addition, corporate training can be delivered via eLearning platforms, online sessions, one-on-one training, workshops, etc. Thus, it will be beneficial for the company to invest in corporate training services as it will contribute to the company's growth, enhance efficiency, & overall success of businesses in a rapidly evolving business world. 
Conclusion
Today, every thriving business invests in corporate training as it empowers employees to acquire industry-relevant skills, stay updated with the latest company trends, & contribute significantly to the companies.
By investing in corporate training programs, the company, as well as the employees, benefit a lot. After all, it is a strategic imperative for companies looking for sustained growth & success in a dynamic & competitive landscape. Thus, corporate training is an invaluable investment for the success of every organization.