What do you see/ imagine when you think of an ideal future for your work life? Perhaps you envision yourself launching a new product, hitting record sales, or hiring the best talent in your team! While it's easy to imagine the dream scenarios, actually getting there takes effort. This is where achieving long-term goals comes into the picture!
Setting long-term helps turn your daydreams into concrete targets that you can work towards with a set plan of action. Aside from helping you achieve complex things, long-term goals are a helpful & valuable tool to prioritize your work & decide what success actually looks like!
Today, we will discuss long-term goals and ways to achieve them. So, if you have any specific goals in mind, stick to this guide for the steps to turn your dreams into reality!
What Are Long-Term Goals?
Long-Term Goals are the objectives you wish to achieve in future, i.e., some years or months down the lane. We won't lie – they are challenging to accomplish, i.e., they require advance planning & consistent work over long durations.
For instance, suppose you wish to begin a startup & you have a plan in mind. Thus, turning this startup into a profitable business, revamping the organizational culture, and becoming a team leader is what constitutes a long-term goal!
Long-Term Goal v/s Short-Term Goal
Long-term goals offer you work direction & purpose. They are usually made up of short-term goals. Interestingly, these are the stepping stones that help you accomplish larger & significant goals.
While long-term goals are your Northstar, short-term goals make the work less intimidating by breaking it into actionable steps.
For instance, you & your team created an app & set a long-term goal to reach over one million downloads within a span of two years. However, objectives like these guide your decisions & define what success looks like for your app.
Now, imagine the smaller actions needed to reach the larger target – these are your short-term goals.
For instance, you can set a short-term goal to create an email referral campaign within the next month.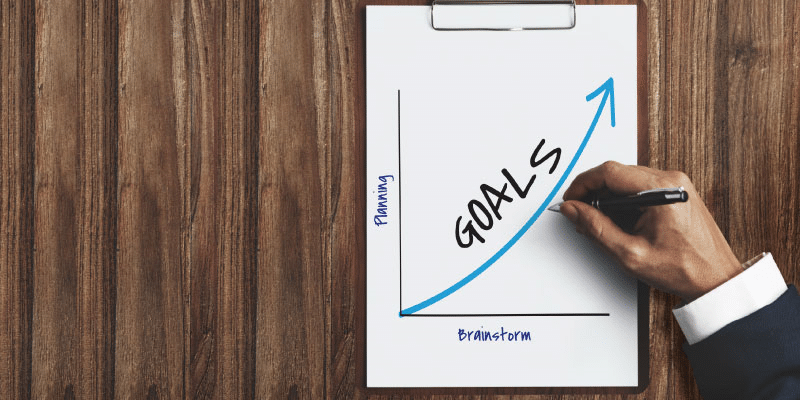 Is It Vital To Set Long-Term Goals?
Long-term goals help you tackle big targets in your personal & professional life. Here's how!
Work With Intention
According to a report published in 2020, 86% of lenders say that defining & finding a purpose is vital for successfully growing & achieving goals. After all, when you are clear about what you want in life, you are much more likely to get it!
Long-term goals help offer that clarity because setting them motivates you to decide what kind of future you strive for!
In addition, instead of working aimlessly, long-term goals offer you focus & ensure that your routine work is chipping away at something that genuinely matters!
Define Success
When you set a long-term goal, you are on your path to a successful career. After all, your goal offers you a concrete benchmark to measure progress & determine whether you have achieved your goal or not!
For instance, if you set a vague goal to increase sales revenue, then it will be challenging to measure progress & success. On the contrary, giving yourself the goal to hit two million dollars in sales revenue in the next six years will offer you a clear vision!
Make Better Decisions
Imagine this:
You are wandering in the city & face a split in the road. Would you go left or right? Since you do not have any destination in mind, it can be challenging to decide. However, when you are headed to a specific location/ destination – the choice becomes relatively easy as you know where you wish to go!
While many destinations aren't as easy as left or right, a long-term plan can be your compass. When you are faced with a choice/ alternative, you can evaluate the pros & cons of every alternative & see how they will help you reach your goal.
Also Read: How To Focus On Your Goals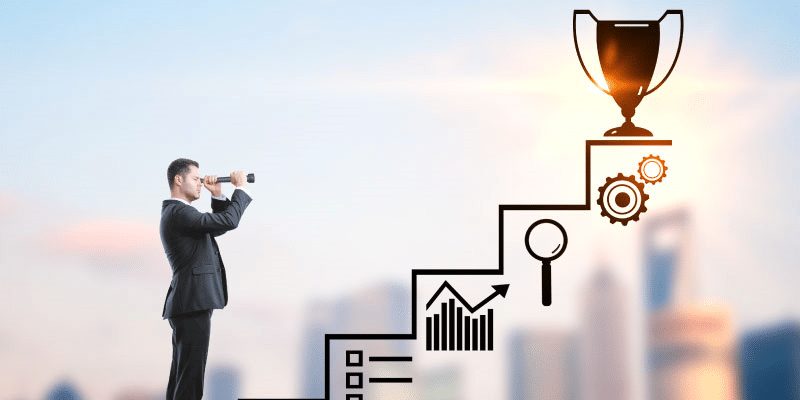 Achieving Long-Term Goals: Your Step-By-Step Guide
We won't deny the fact that long-term goals take effort & a bit of planning. Here's how you can achieve your long-term goals.
Visualize Your Ideal Future
Before creating your goals, you must decide what you wish to accomplish. Remember that long-term goals are significant commitments. Thus, set goals you can stick with & make sure they align with your values. This will enable you to stay motivated & avoid burnout.
If you are setting long-term goals for your business, then this implies consulting with your vision, mission, & company values. However, if you set personal goals, identify your values first. Ask yourself what is vital for you & what has fulfilled you more in the past, like creativity, consumer interaction, etc.
Write SMART Goals
Goals must be clearly defined so that you have a concrete path to success. Luckily, SMART Goals make it incredibly easier to create clear & measurable goals. SMART is an acronym that stands for:
Specific
Measurable
Achievable
Realistic
Time-Bound
SMART goals help you accomplish your goals & allow you to measure your success on different parameters. Thus, if you incorporate SMART goals, you are bound to achieve your long-term & short-term goals, be they personal or professional!
Prioritize Your Goals
Now that you have set goals, the next step is to prioritize them. It can be tempting to try & tackle all your objectives simultaneously, but that's generally not realistic. You have to consider what resources are available – including your bandwidth.
So, to prioritize your goals, you need to begin by listing out all your long-term goals. Highlight which ones are crucial for you. Further, make a note of the estimated time for achieving long-term goals. Then, based on those factors, decide what goals you wish to focus on presently & which ones you can put on hold until more bandwidth opens up.
Break Your Long-Term Goals Into Short-Term Goals
Long-term goals take effort & hard work to achieve, so it's normal to feel a bit daunting at first. That's where short-term goals come into the picture. These smaller stepping stones break the work down into bite-sized tasks that you can accomplish in a shorter time frame.
In order to set short-term goals, write down all the tasks/ targets you need to accomplish to achieve long-term goals. In addition, think of them as dependencies & turn each of these dependencies into a SMART goal.
Make A Plan To Track Your Progress
For achieving long-term goals, make sure they are effective & connected to your routine work. This implies that instead of setting & forgetting your goals, make a plan to check regularly & stay updated regarding your progress. Thus, the short-term goals that you have set will make it simpler to gauge your progress & determine if you are on the apt track or not.
Be Flexible
Change is inevitable. It is happening all the time & it's okay! Sometimes unexpected experiences occur that knock things off track. This is the reason why it is crucial to be flexible. After all, long-term goals aren't set in stone. Instead, they are a living document that you adjust over time.
Staying flexible with your goals can help you in unexpected situations. For instance, your company has set a long-term goal to enter a new international market, but a competitor gets there before you. Thus, you might consider adjusting your objective instead of pursuing that goal. You can focus on differentiating your product from your competitor to target a different audience within the international market.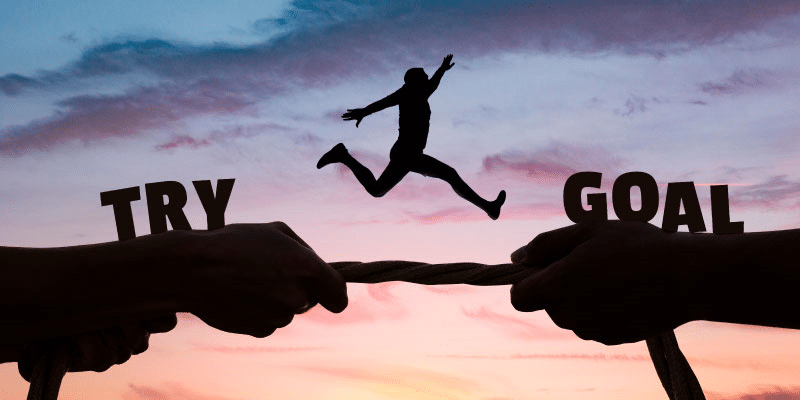 Stand Out With Your Long-Term Strategy
Regardless of what you wish to achieve, long-term goals can help you get there. Setting long-term targets offers structure to your dreams that might have seemed out of reach. In addition, long-term goals empower you to strategically tackle them over time. And with these steps, you can stop dreaming, start planning, & handle your big goals once & for all.
Moreover, irrespective of the goals you set, ensure you can easily track your progress. When you are able to visualize how your short-term goals contribute to your long-term goals, you will become more motivated & likely to stay on track.
Thus, try out these steps to achieve your goals & successfully plan your career ahead!