Public speaking is a critical skill, and not everyone has it. This valuable skill comes after a lot of practice. Only some people are born with this skill, and that is okay. But if you want your voice to be heard, you must have effective communication skills and learn how to give a good presentation.
Moreover, if you feel nervous or excited, you are not alone. Everyone experiences presentation jitters at some point, which are not necessarily bad. No doubt, giving a speech might seem daunting, but today, this is one of the necessary skills required by every company.
Don't worry! Giving a good presentation is not that difficult. We will tell you how!
Today, we will discuss how you can give a good presentation. These are the techniques through which you can become an excellent public speaker. But remember – the key is to keep practicing.
Thus, if you need to give a good presentation, be it a pitch about a new product or project, discuss a marketing report or launch a product, we have got you covered!
Make sure you don't just read the points but practice them as well!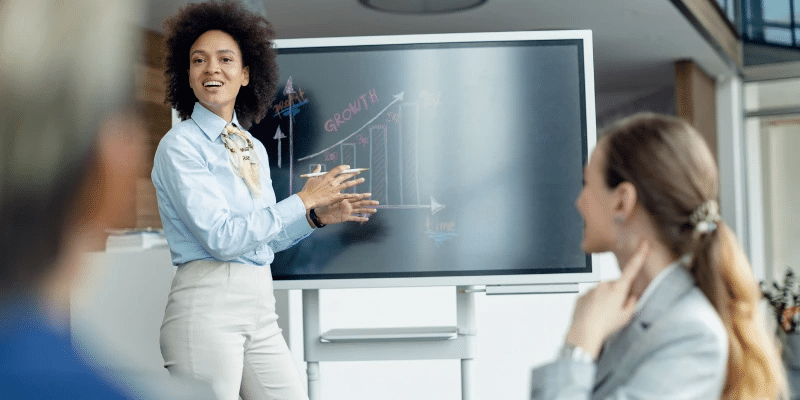 Tips To Give A Good Presentation
Presenting is an art that comes with months of practice. So, don't panic if you are nervous about the upcoming presentation.
Instead, have a look at the following tips on how to give a good presentation.
Rehearse What You Are Planning To Say
Before you give a good presentation, you need to prepare thoroughly.
This step has two parts: rehearse what you will say and prepare yourself mentally and emotionally. These two parts go hand in hand.
Did you notice – we didn't say to memorize your presentation? See, there's a vast difference between memorizing your presentation and practicing it. The significant difference is that a memorized speech can sound robot-like, whereas a practiced speech sounds effortless.
In addition, before giving the presentation, separate it into sections. You can do this by separating topics. Also, try to keep all the sections of the same length. This will help you in delivering a good presentation.
Prepare Mentally, Emotionally, & Technically
All of us began giving presentations right from our school itself. But let's be honest, presentations in schools and workplaces are way too different.
Thus, preparing yourself mentally and emotionally for a presentation is vital. Let us look at each one of them in detail.
While rehearsing the speech, notice the times when you feel like the presentation is in flow and when it is not.
Why do you think that's happening?
If it flows well, it means you are comfortable with the content. You know what you are talking about.
On the other hand, if you are having trouble, chances are that content is still new to you. Therefore, you might need to do more research before becoming comfortable.
Thus, adjusting, rehearsing, and creating mnemonic cues can help you a lot.
Not everyone needs to be emotionally prepared for a presentation. Conscientious rehearsing might be enough. But not everyone's the same.
Many people have glossophobia, i.e., the fear of public speaking. In addition, some might have anxiety or social anxiety that being close to people is difficult for them.
So, to get emotionally prepared before the presentation, you can try some mindfulness exercises, yoga, or any other relaxation techniques you know of!
In addition, wear clothes that make you feel powerful and confident. This will help you prepare emotionally for the presentation.
Regardless of where you speak, you have to have technical preparation. For instance, if you are speaking in a venue, it's better to visit the space where you will talk beforehand. Moreover, look at the place and pinpoint the areas or aspects that make you feel comfortable.
If anything bothers you, think of ways to overcome them.
In addition, always test the technical aspects of the room. For example, connect your computer or tablet to their system and check if the presentation is looking with the setup or not.
If you have an online presentation, test your tech. For example, locate a spot with the strongest WiFi signals. Check the background and lighting as well.
Thus, be technically prepared before giving a good presentation!
Follow The Outline
If you follow the tips mentioned above, it's time to put them to use all at once!
You will deliver an excellent presentation as long as you follow what you practiced. This point is basically a reminder that rehearsing is more critical than you can even think.
Thus, only when you practice & rehearse a lot will you feel more comfortable as you present.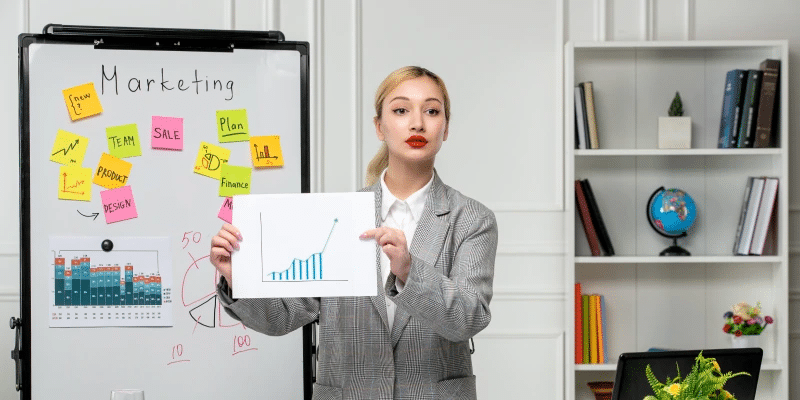 Use Props
Confused about how to give a good presentation using props? Good, this means you are thinking innovatively! However, using props is not something everybody considers before giving a presentation.
But props not only help you get the message across but also serves as significant emotional support for a speaker.
So, a prop can be as small as a book, as large as a washing machine, and as weird as a human brain!
Of course, a prop must be aligned as per your presentation. And, you must also practice with it. Thus, being comfortable with your prop is vital as you present in front of everyone!
Keep Your Slides Short & Visually Balanced
There are two ways to design a slide, i.e., as a standalone presentation and as visual support as you speak.
Either way, you must keep your slides short and visually impactful. Compared to a standalone presentation, the slides don't need much text for a visual representation.
If this thought worries you, as you have tons of information to share, you could always create a full-fledged PDF version to give to your audience, guests, clients, or investors.
Here are some crucial things to remember:
The flow of the presentation
Visual impact
Balanced compositions
Visual hierarchy
Keep the word count of 6-10 per slide
Finish With Confidence
The end of the presentation is as vital as the beginning. You must complete the circle. Thus, knowing how to give a good presentation is like learning how to structure a story or an article.
Remember that the beginning and the end must be connected and relevant to one another.
For instance, if you gave an example at the beginning, try to link that example with a twist at the end. Similarly, if you made a provocative statement, close it up with a similar statement or question about it!
Learn From Your Mistakes
When the presentation ends, and you feel like you have conquered the world, it's not the end yet! Celebrate the moment but remember there will be more presentations in future.
If your presentation was recorded, watch how you spoke. Look if there was anyone you could trust to offer honest feedback. Talk to them. Take mental notes, and next time you'll be even more prepared!
Don't forget – the secret sauce to giving a good presentation is constantly learning and looking for ways to improve!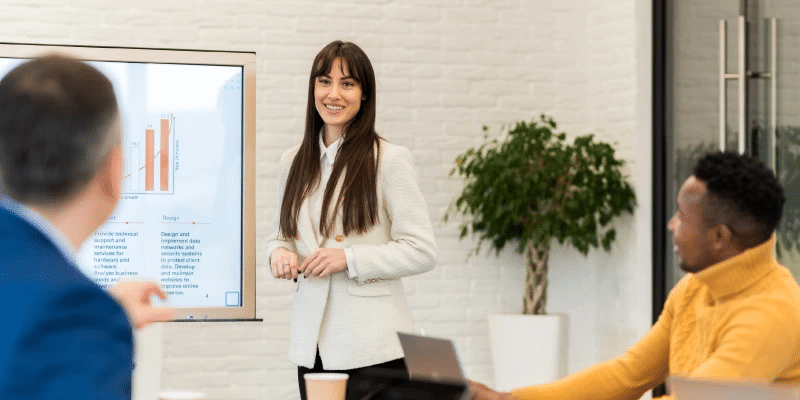 Conclusion
As long as you are prepared, your slides are well-balanced, and your speech is rehearsed, you are able to deliver an impactful presentation.
The significant thing is to persuade the audience with confidence and speaking skills. Ward off all the negativity or presentation jitters you feel. They might hold you back.
Give your presentation with utmost confidence and sincerity, and you will see that giving a presentation is not that difficult.
Let us know in the comments below what you feel we must focus on before presenting!
Also Read: Stress Management Techniques