With globalization becoming increasingly prevalent, the importance of diversity training in the workplace is also increasing multi-folds.
Many employees today are vocalizing their support for diversity training as they believe it can nurture equality in the workplace. Thus, such training programs in the workplace are a secure way to address biases and prejudices.
Today, we will discuss all about diversity training, i.e., its significance, its benefits, and how you can have effective diversity training in the workplace.
So, let us begin!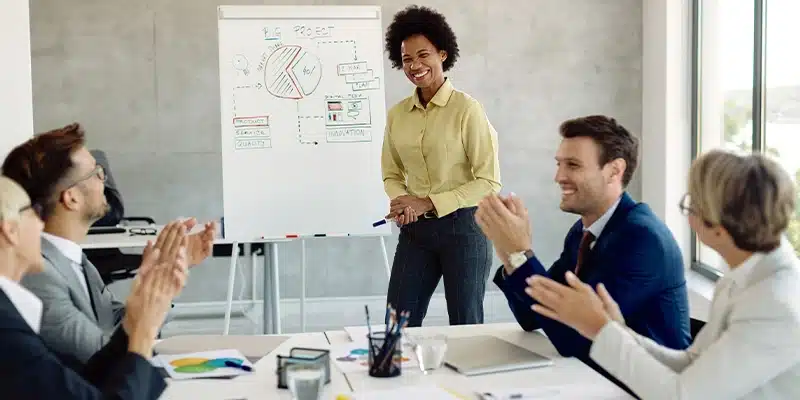 What Is Diversity Training?
Diversity Training is an initiative to create awareness about diversity within the workforce and bring cohesiveness to teams. It aims to facilitate team motivation and positive interactions and reduce prejudice & discrimination.
Workplace diversity training motivates employees to embrace people with diverse cultures and backgrounds, including race, caste, color, creed, language, nationality, sexual orientation, religion, etc.
So, diversity training is about embracing employee differences and welcoming fresh perspectives to contribute to the organization's growth.
What Is The Need For Diversity Training In The Workplace?
Diversity training is vital for the organization to grow and expand in every respect. Here are some reasons why diversity training is crucial.
Raising Awareness
When employees get aware of concepts like unconscious bias in the workplace, they further realize how these concepts appear in real-life situations. Thus, raising awareness among employees about diversity and inclusion is vital to create a happy & positive environment.
Upholding Workplace Sensitivity
Diversity training enables employees to understand the different perspectives of their colleagues and encourages them to think about how their actions can unintentionally offend someone. So, increased workplace sensitivity is a vital step against harassment and discrimination.
Developing Inclusive Thinking & Actions
Diversity training enables employees to think about inclusion & how they make conscious efforts to make everyone feel valued, acknowledged, and comfortable. Therefore, a supportive work environment encourages everyone to contribute to business growth.
Also Read: Motivation Examples In The Workplace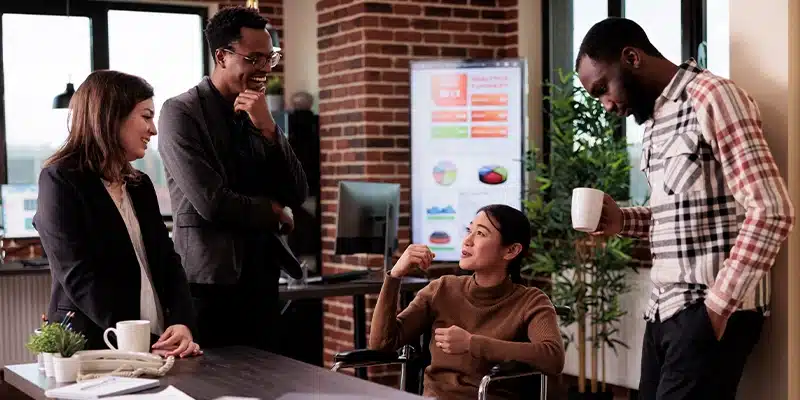 Benefits of Diversity Training In The Workplace
Diversity training in the workplace paves the way for an inclusive workforce. Moreover, it helps in creating positive team morale. Even many studies show that 92% of the leading business leaders support diversity training for business growth and expansion.
So, here are the benefits of having diversity training in the workplace.
Increased Employee Engagement
Diversity training programs create a sense of trust among employees. As a result, employees view their workplace as a safe and secure environment. This further encourages them to involve themselves with their work on deeper levels, thus resulting in enhanced employee engagement and retention.
Profitable Workplace
Diversity training helps leaders be more inclusive in hiring procedures and team building. Moreover, diversity in the workplace is directly linked to increased sales and profits. So, a team with greater diversity will always be more profitable than a homogeneous team.
Encourage Collaboration & Innovation
Different people have different approaches to solving various issues in their professional life. Therefore, organizations that understand and welcome new and diversified perspectives are more likely to come up with a comprehensive solution. Thus, diversified teams learn and grow together towards creative solutions.
Brings Positive Change
With effective diversity training, power structures built on race and other extrinsic factors won't exist longer. As a result, this will ensure that talent gets proper recognition dispensing on performance and skill sets. Therefore, diversity training can bring about optimistic changes in the workplace and contribute to the organization's overall growth.
Developing Skill Sets
Managing diversity in the team requires a unique set of skills. From cross-cultural competency and non-ambiguous communication to conflict management & problem-solving, diversity training helps you master these skills crucial to leading and working with a diversified team.
Abiding By The Compliance Training Regulations
In order to ensure that no employee violates the rules about bias and discrimination towards certain groups, it is vital to provide diversity training in the workplace. By doing this, the leaders comply with the rules and regulations and show the employees that they care for their physical and mental well-being.
Builds Business Reputation
When a leader prioritizes diversity training in the workplace, they send out a message that they care for employees and wish to create an equal work environment for every community, i.e., women, LGBTQ+, and people belonging to different races and cultures. This builds the business reputation and helps in its growth and expansion!
Helps Employee Understand the Importance Of Diversity
Employees who don't understand diversity are the ones who need diversity training immediately!
Ingrained beliefs and biases about different communities and cultures take time to change. But by opting for training programs, employees will better understand the importance of diversity. Thus, diversity training helps everyone to treat others equally and respect their differences.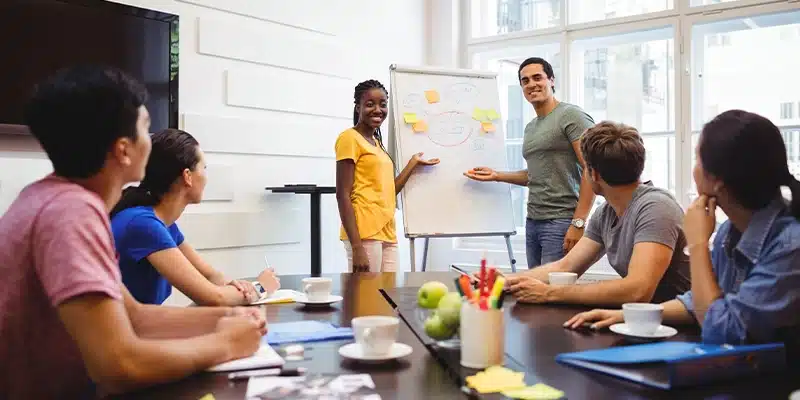 Diversity Training: How To Make It Work?
Diversity training that makes workers feel appreciated and pleased can positively affect workplace equality. Moreover, it goes without saying that a contented staff is a productive staff.
Here's how you can create effective diversity training in the organization.
Develop A Clear Understanding
The primary step in developing an effective diversity training program is establishing a clear, detailed definition of what the training program must entail. Next, a clear plan of action must be provided to help employees engage in respectful, positive interactions. Thus, diversity training programs should address a range of issues and embrace varied perspectives.
Create Common Goals
Having common goals is the best way to strengthen the bond between employees. As everyone has some preconceived unconscious biases towards certain things and people, it is essential to spread awareness and help them take a step towards growing beyond these biases and performing like a team.
Make Training A Continuous Learning Process
In order to have a positive impact of diversity training on employees, make sure that it goes on for an extended period of time. It shouldn't be an annual event that you have to tick off and be done with for compliance. Instead, a series of programs, events, seminars, etc., just be rolled out for continuous learning.
Customize The Training Program
Organizations can't take a 'one size fits all' kind of approach to their diversity training program. Instead, it should be tailored and customized according to the objectives of the training & organization. For instance, you can design a training program through in-depth research and data analysis and then develop training goals. Thus, the training modules must highlight data specific to the organizational objectives.
Include Employees Across All Levels
Diversity training programs must be developed for the entire workforce, irrespective of their designations. Everyone from a lower level to the higher management level must be motivated to participate in these programs & benefit from the sessions. Thus, including employees at all levels helps organizations grow fast and nurture a positive environment.
Opt For An Integrated Approach
Sessions on diversity can be combined with company culture, employee satisfaction, career advancement, and productivity. In addition, the training should have integrated scenario-based learning so employees can better understand the concepts. Another integrated approach is microlearning or online learning courses that offer an integrated approach to inculcate diversity in the workplace.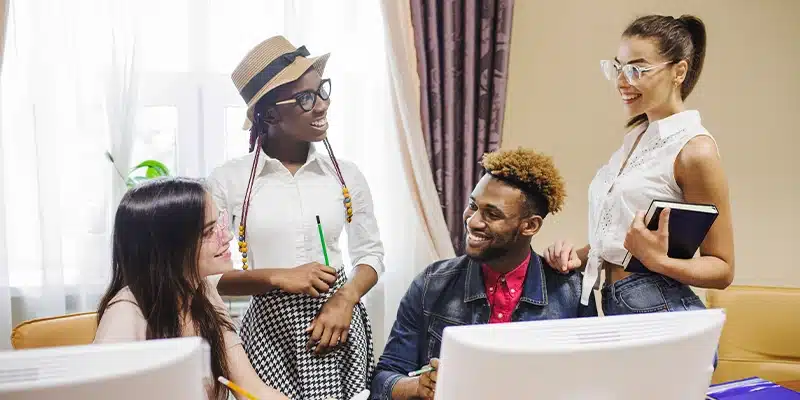 Wrapping Up!
Diversity training is considered the best solution to many race & diversity-related discriminations in the organization. However, this training program and methods might not suit every organization. Thus, it is vital to put in research and thoughts to design effective diversity training in the workplace to fulfill organizational objectives.
Moreover, trying to customize the training program for your employees can benefit on various fronts. So, try to nurture diversity in the workplace by opting for diversity training today!