Peace, calmness, serenity, and clarity – these all adjectives come to mind as we think about meditation. Moreover, even if we utter the word, a sense of relaxation passes through our minds. Right?
So, what is meditation? Where does it originate from?
Well, meditation is a practice that involves focusing on clearing your mind using a combination of mental and physical techniques.
Depending upon the type of meditation you can choose, i.e., you can meditate to relax; you can meditate to reduce stress & anxiety; you can meditate for overall health; and much more.
The practice of meditation is a thousand years old, & different forms come from around the world. But modern science has only studied this practice in detail over the last few decades.
Interestingly, on the outside, someone who is meditating might not seem to do anything apart from breathing or repeating a specific sound over and over again. But inside their brain, there's an entirely different story going on.
So, meditation isn't about becoming a different, new, or better person. Instead, it is about gaining awareness, clarity, and a healthy sense of perception.
Today we will discuss the same, i.e., meditation, its benefits, and how to begin meditating. Thus, make sure to take some interesting points from this guide to meditation!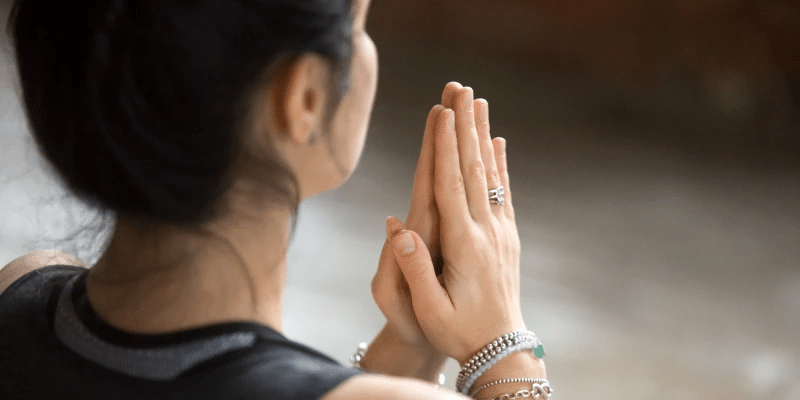 Is Meditation A Religious Practice?
Well, the answer to this can be YES and can be NO. Meditation has foundations in ancient philosophies and many religions, but one doesn't have to be religious to meditate and vice versa.
Some examples of non-religious methods of meditation include:
Numerous different forms of meditation have their origins in Buddhism. For instance, Theravada meditation is common in Southeast Asia. Similarly, Zen Buddhist meditation began in China, and its different forms evolved in other countries. Furthermore, Tibetan Buddhist meditation comes from the former nation of Tibet.
Contemplation is a Christian concept wherein you focus attentively on a question, idea, religious concept, or deity. Praying is often termed meditation, specifically when it takes this form.
This non-religious form of meditation can happen with a number of people or one-on-one. It is a common technique in counseling, therapy, and group support settings.
This form of meditation is also known as 'dynamic meditation'. It comes from India and has its roots in Hinduism. Breathing exercises in this kind of meditation are deliberate & forceful.
Sufism is a branch of Islam, & meditation is a typical practice among people who follow it.
This is a physical form of meditation and exercise in India that can take both religious and non-religious forms.
Like Buddhism, Taoism is considered a religion and a philosophy that originated in China & is known through the writings of its founder, Laozi (also spelt as Lao Tzu).
Also Read: A Beginner's Guide To Yoga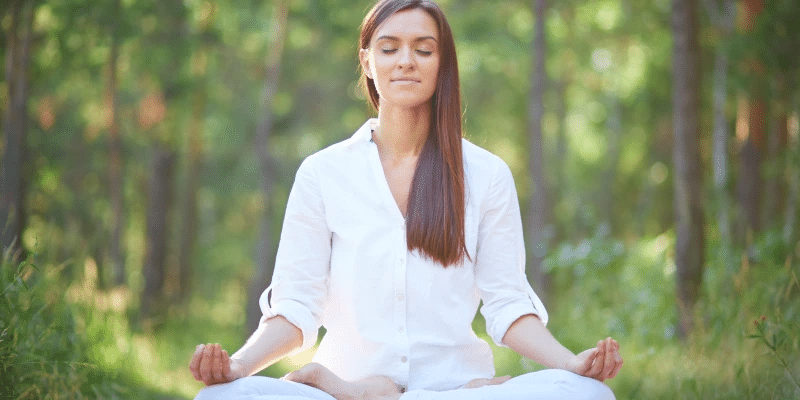 Benefits Of Meditation
In this guide to meditation, one must note that meditation can give you a sense of calm, peace, & balance that can benefit both your emotional well-being & overall health. Moreover, you can also use it to relax and cope with stress by re-focusing your attention on something calming. So, meditation can help you learn to stay centered and keep inner peace.
Here are the benefits of meditation:
Physical & Emotional Benefits
When you meditate, you can clear away the information overload that builds up every day & contributes to your stress. Thus, the emotional & physical benefits of meditation include:
Gaining a new perspective on stressful situations
Building skills to manage stress
Enhanced self-awareness
Focus on the present
Reducing negative thoughts
Lowering resting heart rate
Enhanced imagination & creativity
Lowering blood pressure
Improved sleep quality
Meditation might also be helpful if you have some medical condition, especially one that may be worsened by stress.
While a part of science talks about the benefits of meditation, a part of it yet believes that it's not possible to conclude the potential benefits of meditation.
With that in mind, some believe that meditation may help people manage symptoms of conditions like:
Anxiety
Azma
Cancer
Chronic pain
Depression
Insomnia
High BP
Headaches
Meditation isn't the replacement for traditional medical treatment. But it may offer health benefits in the long run.
Now, let's learn to meditate in this guide to meditation.
Also Read: How To Reprogram Your Mind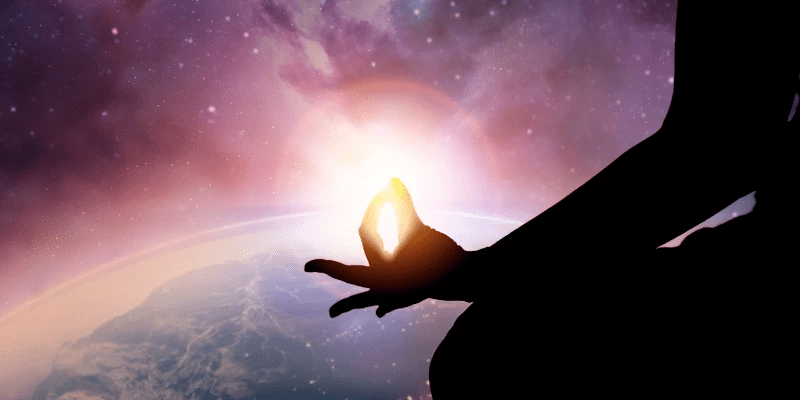 Guide To Meditation – How To Begin Meditating
In this guide to meditation, we have discussed the non-religious forms of meditation and their benefits. Now, we come to the most significant part, i.e., how to begin meditating. So, here it is!
Just Sit
Make a point of doing nothing except watching the world go by. Don't add anything new to your to-do list or pick up the phone to answer messages. Instead, just sit and observe the thoughts that arise in your mind.
You will likely be surprised to see how difficult sitting for even 10 minutes is. However, in this process, you might learn to calm your mind, which is necessary for stressful situations.
Listen To The Sound Of Life
Close your eyes and tune into the sounds percolating within and around you. Basically, try to have a receptive attitude. At first, you'll likely hear the most obvious noises, but over time you will discover new layers of sounds you previously couldn't listen to.
Moreover, challenge yourself to hear without clinging to it or resisting it. As a result, you will notice how the world feels alive as your awareness deepens.
Practice Bare Attention
Notice the raw sensations of the present moment, i.e., the feeling of warmth, coolness, hardness, softness, ease, etc.
Ask Yourself:
Which parts of my body are in contact with the Earth?
How does my body shape shift every time I inhale and exhale?
How is my experience changing over time?
Cultivating awareness of the present moment will foster a more calm and focused mind, one that is able to settle in the here and now.
Follow The Breath
Attach your mind to the breath. While you are breathing in, focus on it. And while breathing out, concentrate on the exhalation. Don't manipulate the breath. Instead, simply watch it with your mind's eye.
In addition, if you find your mind has strayed, gently refocus on the breath and begin again.
Use A Mantra
Choose a favorite word, prayer, phrase, or fragment that you like and repeat it slowly and softly. Let its rhythm and meaning pull you into a quiet, contemplative state of ease. Then, if you notice that your mind has wandered off to other thoughts, try to redirect it back to the words you chose as your touchstone. Further, turn your awareness to them.
Practice Kindness
As you're relaxing quietly, think about a friend or family member who could need some additional love and support. Visually convey to this individual your best wishes for love, joy, caring, and success in life. Soften yourself, open the floodgates of your heart, and let gentle goodwill pour forth. You'll definitely feel better!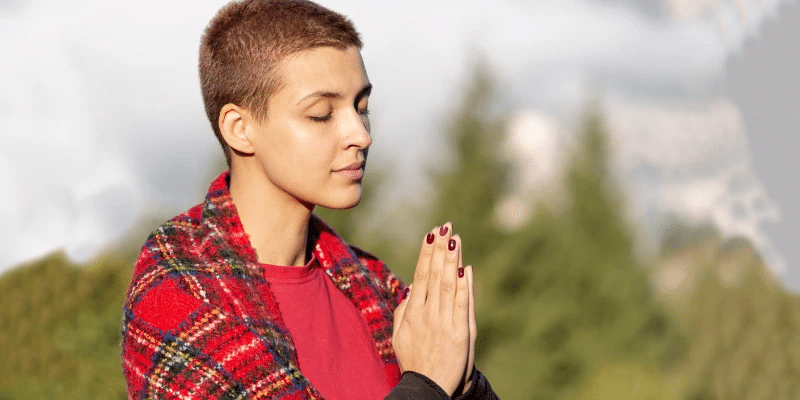 It's Time To Build Your Meditation Skills
Don't judge your meditation skills, as it will only lead to stress. Meditation takes a lot of practice, patience, and determination.
Remember that it's uncommon for the mind to wander during meditation, no matter how long you have practiced it. So, if you are meditating to calm your mind & your attention wanders, slowly return to the object, sensation, or movement you were focussing on.
Experiment, and you will likely find out how meditation will do wonders for your mental, emotional, & emotional health.
Also, keep in mind to adapt meditation as per your needs at the moment. Finally, remember that there's no right or wrong way to meditate. What matters is that meditation enables you to reduce your stress and improves overall health.
So, follow the tips in this guide to meditation and update us on what effects you have felt after meditating!
Suggested Read: Stress Management Techniques