Becoming a lawyer in India is one of the most rewarding careers in terms of job satisfaction and potential salary. According to the BCI, i.e., Bar Council of India, there are over 12 lakh registered lawyers in India, 950 law schools and over 5 lakh students.
The role of lawyers is considered very significant to uphold the law of the country & protect the legal rights of their clients. Therefore, the scope of a career in the legal industry is extremely gratifying, especially for people who are passionate about their role.
So, if you are interested in this subject, we have got a complete guide for you!
Today, we will discuss what becoming a lawyer in India means, what qualifications you need, and how to become one!
OK, then, let's get started!
What Does A Lawyer Do?
Lawyers are vital for protecting the law in the country. In addition, they are responsible for utilizing their law knowledge to help clients understand & navigate certain legal matters. While their roles & responsibilities may vary depending upon their specialized area of expertise, most lawyers perform the following duties.
Preparing legal documents & filling them with suitable authorities & courts.
Attending trials and court hearings with their clients.
Collaborating with police as well as investigators to build cases for trials & mediations.
Presenting arguments in favor of the clients in front of the judge.
Reviewing a case & suggesting legal options for the clients.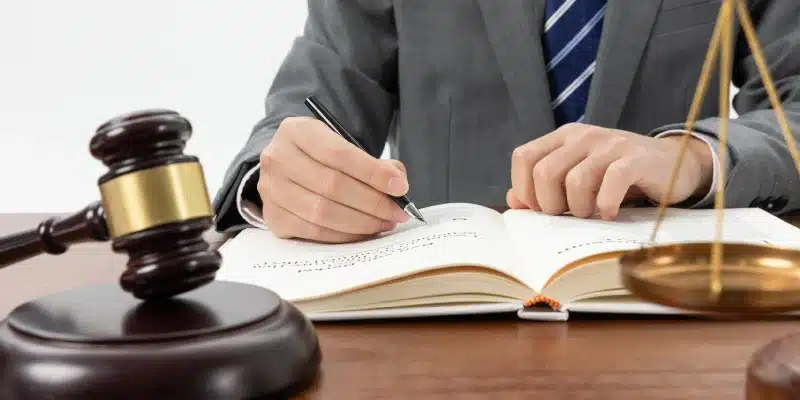 Categories of Legal Subspecialties
Different lawyers select different law specializations. For example, while some lawyers prefer litigation, others prefer to practice corporate law.
Below are some popular law specializations for becoming a lawyer in India.
Real Estate Law
Civil Law
Corporate Law
Administrative Law
Criminal Law
Cyberlaw
Family Law
Tax Law
Animal Rights Law
Labor Law
Intellectual Property Law
Consumer Protection Law
Human Rights Law
Environment Law
Qualifications For Lawyers
In order to begin your career as a lawyer, you must complete a degree course from a recognized university. However, there are a wide variety of courses you can opt for. Here they are!
Combined LL.B
You can pursue a combined law degree that concentrates on two degrees for a duration of five years. The combination in this degree is of:
BA LL.B
B.Com LL.B
BBA LL.B
Bachelor Of Law (LL.B)
The traditional law degree is a postgraduate course that a student can pursue who has completed a bachelor's degree in arts, commerce, or science. This is a three-year course that follows the first undergraduate degree!
Master Of Law (LL.M)
A master's degree in law is pursued after securing the degree mentioned above. LL.M. is usually a two-year or one-year course.
While one can fulfill basic lawyer requirements by doing an LL.B course, many lawyers choose to go for a master's as well to hone their skills further & enjoy better career prospects.
Becoming A Lawyer In India: A Comprehensive Manual
To become a lawyer, it is vital to be aware that you must meet minimum educational requirements & pass certain industry exams to practice law.
Here are the fundamental steps to becoming a lawyer in India.
Complete Your Higher Education
Completing higher secondary education from a recognized school education board is vital to pursue further education. Students of any stream, i.e., arts, commerce, or science, can enroll in a bachelor's program.
Moreover, if you pursue law after the 12th, you can opt for integrated courses like BA LL.B, BBA LL.B, and B.Com LL.B.
In addition, some universities even have honors programs, like BA LL.B (Hons.). These programs will allow you to choose a specialization according to your area of interest.
Complete Your Graduation
Another way to pursue law is through a three-year LL.B course after graduation. If you choose to take that route, you can do it after completing a bachelor's in any other stream, i.e., BA, BSc, B.Com, BBA, etc.
After any of these degrees, you can apply for a bachelor's in law.
Take A Law Entrance Exam
Most law schools select candidates based on merit, i.e., the scores they have achieved in the law entrance exam. As a result, the Common Law Admission Test (CLAT) is one of the most popular entrance exams.
It is a two-hour long assessment consisting of 150 multiple-choice questions. One mark is granted for each correct answer, while 0.25 marks are deducted for each incorrect answer. Moreover, candidates must score at least 50% marks to be eligible for admission.
Here are other law entrance exams you must know of!
All India Law Entrance Test (AILET)
Symbiosis Law Admission Test (SLAT)
Maharashtra Common Entrance Test – Law (MC-CET)
Law School Admission Test (LSAT)
Apply To A Law School
Once you receive your law entrance test scores, you can apply to different law schools. For each application form, you must send transcripts, test scores, letters of recommendation., and other additional information.
Furthermore, many schools seek candidates with high CLAT scores, LORs, and curricular activities. Moreover, an internship at a local courthouse or law firm can also help you gain admission. Volunteering too can demonstrate your eagerness to learn, which can get you admission to reputed law schools.
Complete Your Bachelor's Degree
During your undergraduate law degree, you will study subjects like economics, political science, sociology, etc. These subjects will help you understand more about society & practice law in it.
Along with these subjects, you will also be required to study law subjects, like constitutional law, family law, tax law, etc. Thus, you must pass all these subjects to become a law graduate!
Pass All India Bar Examination
According to government guidelines, law graduates need to clear the All India Bar Examination to be eligible for becoming a lawyer in India.
The BCI, i.e., the Bar Council of India conducts this exam annually. Therefore, applicants need to register and see whether they are eligible for the exam or not. For instance, to check eligibility, you must enroll as an advocate with the SBC, i.e., State Bar Council.
However, this requirement applies to students graduating in the academic year of 2009-2010. If you have passed your law degree before that, then this exam isn't mandatory!
Gain Experience
Once you have cleared the All India Bar Examination, you obtain the license to practice law. The next ideal step would be to seek out a legal job with a legal form as an associate advocate.
You can even start practicing law independently and open your own firm. Thus, whatever way you choose, you can practice law in India!
Wrapping Up!
Becoming a lawyer in India is an exhausting process. Clearing the exams, having updated knowledge, and implementing it regularly can be tiresome. But no doubt, it is a rewarding career. Moreover, the process of becoming a lawyer prepares you to be excellent in your work.
Thus, if this field interests you, prepare to receive more than you can imagine!
We hope this blog gave you all the necessary information regarding the law degree. Let us know in the comments below what specialization you would choose while becoming a lawyer in India!
Also Read: Humanities with Economics? Here's What You Need To Know!