'There's no cure like travel'. This statement is 100% accurate. And what's a better way to travel than becoming a pilot? Well, none!
If you love to travel, then we have an ultimate guide for you on how to become a pilot. See pilots are skilled professionals who fly and navigate planes, helicopters, and several other types of aircraft. The essential duties and responsibilities of pilots vary depending upon the level they are at.
Thus, along with traveling, being a pilot involves much more than you can imagine. So, if you are interested and wish to know more about the topic, look no further! We got your back!
Today, we will discuss how you can become a pilot. We will delve deep into the types of pilots, the qualifications required to become one, and more. So, gather pen and paper as you might want to take down the crucial points!
Pilot Requirements And Prerequisites
In order to become a pilot, candidates must fulfill the specific eligibility criteria given below:
Candidates should not be less than 17 years of age as they begin their pilot training.
Candidates must complete Class 12th with a minimum of 50% or a similar CGPA from a recognized university.
Must-Have main subjects – Physics, Chemistry, & Mathematics.
Candidates interested in becoming Air Force Pilots must appear in the NDA exam after Class 12th or CDS.
Along with NDA, candidates must also give the AFCAT exam after graduation.
Moreover, to become a commercial pilot, a candidate must apply for a Commercial Pilot License (CPL).
Furthermore, to become a private pilot, a candidate must hold a Private Pilot License (PPL)
Pilot Licenses And Permits: Their Varieties
Pilots can easily handle different kinds of aircraft. Therefore, pilots-to-be have the following stratifications.
Sport Pilot
A sport pilot is the easiest and the least restrictive certification a student receives. It is meant for pilots who wish to fly light aircraft at low altitudes in local areas.
Moreover, sports pilots are limited to just one passenger. They are prohibited from flying at night above 10,000 feet.
One of the significant advantages of a sports pilot certificate is that only 20 hours of logged training time is required.
Recreational Pilot
Recreation pilot certification can be a good option for pilots who wish to fly heavier aircraft as compared to sports pilots.
This certification requires 30 hours of logged flight time, including 15 hours of dual instruction. Recreational pilots are just limited to flights less than 50 nautical miles from the airport departure. Moreover, they can only fly the aircraft during the day.
Private Pilot
This is the most common pilot certification. The training required in this is highly intense. Moreover, private pilots are allowed to do much more, unlike recreational or sports pilots.
Interestingly, private pilots can fly any aircraft. But they cannot fly for commercial purposes.
This certification consists of multiple maneuvers and at least 40 hours of flight time, out of which 20 must be with the instructor!
Flight Instructor
Those wishing to become a pilot can get a flight instructor certificate. However, some pilots bypass this certificate. But that shouldn't be the case!
Becoming a flight instructor involves learning about instructional design, learning theory, and knowing all the commercial pilot topics in-depth. Thus, this certificate allows pilots to share their knowledge with others while gaining the necessary experience!
Study Programs For Aviation Pilots
Apart from certification programs, you can do graduation in the following courses.
B.Sc. (Bachelor of Science) Aeronautical Science
B.Tech (Bachelor of Technology) Aeronautical Engineering
B.Tech (Bachelor of Technology) Avionics Engineering
BMS in Aviation Management
BBA Aviation Operations
B.Sc. (Bachelor of Science) Aviation
M.Sc. (Master of Science) Aerospace Engineering
M.Tech. in Aeronautical Engineering
M.Tech. (Master of Technology) Avionics Engineering
Why Should You Consider Piloting a Plane?
Many people dream of becoming a pilot. Turning that dream into reality takes a lot of hard work. But in the end, everything pays off!
Here are the top benefits of becoming a pilot!
Better earnings
Pilots see many different countries
Highly social reputation
Witness the world from a different perspective
Get to know different cultures
Makes you a multitasker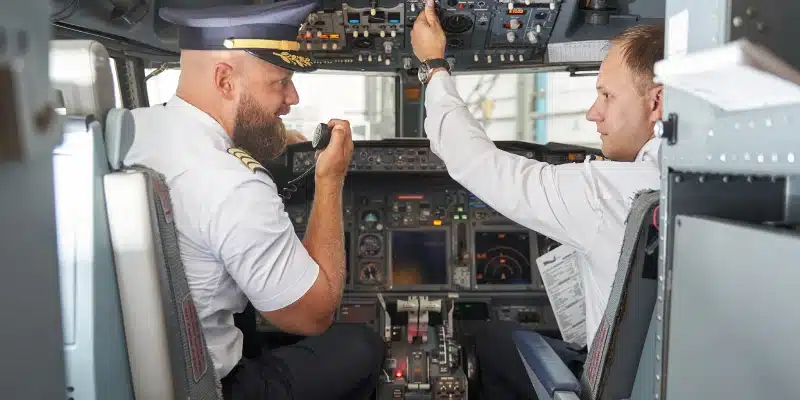 Competencies a Pilot Must Possess
Pilots contain both hard and soft skills. Below we have discussed some of them!
Communication & Teamwork Skills
Communication is a vital element in every pilot's job. For the safety of passengers, pilots need to be in constant contact with ATC, i.e., (Air Traffic Control).
In addition, the ability to communicate effectively makes pilots great team players. For instance, during training, students acquire communication skills and interact with their teammates to ensure coordination of everything that occurs during flight. Thus, communication & teamwork go hand in hand!
Stress Management & Decisiveness
Stress management must be the prioritized skill of every pilot. In any case of emergency, it's imperative that a pilot must stay calm for the sake of everyone on the flight.
Remember – it's natural to make irrational decisions when people are stressed. So don't let that happen!
Thus, acting confidently under pressure in difficult situations is vital to a pilot's role.
Strong Focus & Multitasking
Pilots must be able to focus because flying an aircraft involves performing many tasks simultaneously. Also, when it comes to flying, all details matter and require the pilot's full attention.
Since there is a lot of work to do, pilots need to multitask and have keen observation even on the minutest details.
Understanding Aircraft & Its Avionics
Before taking off, a pilot is responsible for examining the aircraft's condition, inside & outside. Pilots utilize multiple checklists before and after the flight to ensure that the plane is appropriately working & is in shape.
Pilots also check fuel levels, monitor engine performance, navigate the plane, look at flight plans, and much more. All of these skills are pretty technical & require a great deal of knowledge, but each one is critical for safe operation.
Strong Hold Over Maths & Physics
As a pilot, you must have a strong hold over mathematics and physics. In addition, a pilot must know different areas, such as principles of flight, navigation, mass, balance, etc. Also, during training, it is best to learn about relevant topics.
Don't fret – flight instructors will be there to help you! Before attending a flight school, taking a few math and physics classes to prepare will be beneficial. However, it's not necessary. The decision is up to you!
Situational Awareness
Being constantly aware of your surroundings is another crucial skill of a pilot. This skill includes watching for changes in weather, looking at aircraft configuration, procedures to follow, etc.
Think of it this way:
Do you know what to do if threatening weather appears? Are you prepared for recovery situations?
No matter what circumstances and challenges come your way, make sure to never give up because a pilot is the most responsible person out of everyone as they have to take care of everyone!
Do you have what it takes?
Becoming a pilot is a rewarding and exciting endeavor, yet it's a bit challenging! But if you are determined, then nothing can stop you!
Being able to take to the skies as your playground is something that can be achieved through hard work, resources, determination, and perseverance.
This blog has all the necessary information you might require to become a pilot & have an amazing career in aviation.
Tell us in the comments below what kind of pilot you want to become and how you would go about achieving this dream!